Back in 2001, our first official full concert was at CONvergence (we played MarsCon a few months earlier as a kind of warm up).  CONvergence was the main reason why the band was formed.
We wanted to make this concert HUGE.  I think we played for an hour and a half.  We rehearsed nonstop.  We promoted the HELL out of the show.  12:00 MIDNIGHT!  We hung dozens of fliers up all over the hotel.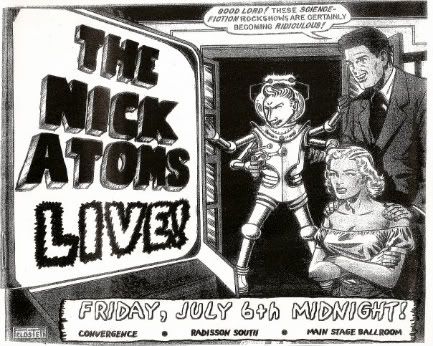 Around 11:30pm we got word that our show was being bumped in favor of anther band.  At midnight, the mainstage was PACKED from all the publicity we drummed up around the hotel, but instead of The Nick Atoms, they got "Ear Candy":  Two girls dressed up like Devo, playing techno dance music on a keyboard.  (hrmmm… sounds familiar)
We finally got on stage about 1:00am and prepared to kick all ass.  The audience was very receptive as we closed the show with our most complicated number to date.  A song that I dont think we could ever tackle again…
The entire end credit music to Star Wars(1977).
Enjoy.